Daniel Kellaway is a character featured in the episode And No Birds Sing. A business owner by trade, he is the bedridden by persistant severe dermatitis, and is cared for by his wife Alicia at his home, Winterbourne Manor.
Biography
Edit
Background
Edit
Daniel is confined to his bedroom by his debilitating skin condition that never seems to improve. He is repeatedly prescribed hydrocortisone cream by Doctor Bob Whittaker, which is applied frequently by his dedicated wife, Alicia.
As the owner of Kellaway Garden Centres with his business partner Sam Trent, Daniel has accumulated a small wealth, one which he wished to pass on to his alma mater, the University of Malmesbury, to fund an the creation of the Kellaway Chair for Plants Genetics. Believing that his dermatitis would soon cause his death, he invited Professor Julian Marchant and his former tutor Rosemary Boxer to Winterbourne Manor to discuss this endowment, as well to diagnose a problem with the trees in the manor's gardens.[1]
Crime investigation
Edit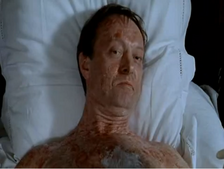 Soon after, Sam Trent dies from a heart attack while driving, and Daniel is mysteriously found lying in the garden, having apparently fallen from the first floor balcony which is connected to his bedroom. While recovering in hospital, his dermatitis appears to improve. Rosemary Boxer and her gardening partner Laura Thyme subsequently investigate, having concluded that these turn of events was a murder attempt in order to gain control of Kellaway Garden Centres.
Rosemary and Laura gather clues which suggests that the housekeeper at Winterbourne Manor, Mrs Potts, was mixing sap from the toxic giant hogweed plant with Daniel's hydrocortisone cream. The giant hogweed sap causes phytophotodermatitis upon skin contact, and along with UV lamps in his bedroom to recreate sunlight, was causing the extreme persistance with which Daniel's skin remained inflamed.
In a twist of events, Rosemary and Laura further discover that Mrs Potts was colluding with Alicia, who was in fact her daughter, who was acting in the expectation that Daniel's skin would eventually become infected, causing his death. The two were also involved in Sam's death, dosing him with lethal amounts of this heart medication digoxin. Mrs Potts and Alicia are eventually arrested by the police.
Aftermath
Edit
Now free from his 'treatment', Daniel expects to make a full recovery. He does however state that he will never trust anyone ever again, having been betrayed by the woman he thought loved him. He also vowed to retain the remains of the Giant Hogweed plant, as a reminder.[1]
Behind the scenes
Edit
Daniel Kellaway was played by actor David Mallinson.
References
Edit
Community content is available under
CC-BY-SA
unless otherwise noted.